We are happy to share exciting news from the DIGIT-PRE project! Last week, we were present at the renowned HIMSS23 Lisbon event, where Health Cluster Portugal, in collaboration with HIMSS, showcased their European project portfolio.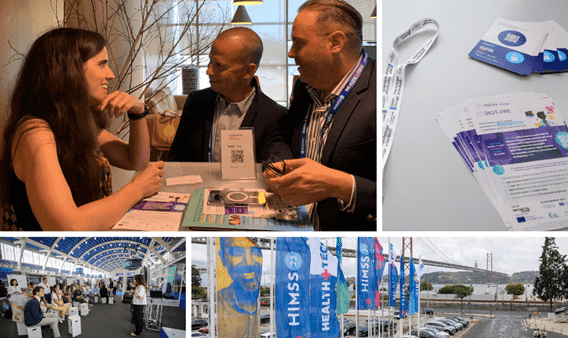 As a proud partner of the event organisation, Health Cluster Portugal received an invitation from HIMSS to present some of its projects in Digital Health, and we are delighted to announce that DIGIT-PRE was one of the select projects.
Patrícia Patrício, Innovation Director, presented the innovative nature and potential impact of DIGIT-PRE in the field of consumer-facing mHealth apps and devices for prevention, prediction and remote care in a post-COVID world. The project generated attention and appreciation from the attendees who engaged afterwards to get more details on how to participate in the open call.
The HIMSS23 Lisbon event provided a remarkable platform to share the mission, goals, and progress of DIGIT-PRE. We are confident that this exposure will attract attention and generate interest from various stakeholders, including SMEs interested in participating in our project.
If you have any questions or would like to learn more about DIGIT-PRE, please don't hesitate to reach out to us.
Follow us at DIGIT-PRE and be part of a community of innovators and professionals who are making a difference within the Digital health ecosystem.